The BiTS D INNOVATION is a dissemination conference, organized by INESCOP on 17th December 2020, with the objective of bringing some of the results and technological advances obtained in 2020 closer to the footwear sector, through R+D+I activities.
"Pieces" of innovation on "Sustainability", "Comfort and Health" and "Advanced Manufacturing", in an entertaining and very demonstrative format.
In the area of Advanced Manufacturing, Jose Maria Gutierrez from INESCOP presented the talk "Multi-robot manipulation for the cut-floor joint operation".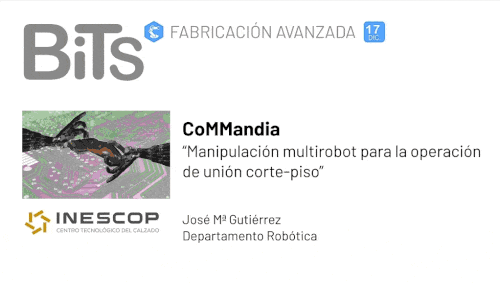 At COMMANDIA, INESCOP works together with 4 European universities, in the automation of the joining operation between the shoe cut, and a deformable object such as the floor. The manipulation of deformable objects is one of the main current challenges of robotization.
This union operation takes place after the adhesive has been applied on the floor, and consists of collecting the sole of a tape with a robot, and with the help of a second robot, run accurately on a cut that is prefixed. For this union, we have a 3D vision system that will tell us at all times the relative position between the elements and the necessary actions of the robots to proceed properly. The use of two robots allows us to correctly handle the floor even though it is flexible, and to be able to use this factor in our favor if necessary.