Partner Institut Pascal of project COMMANDIA is participating in a virtual booth at ICRA 2020.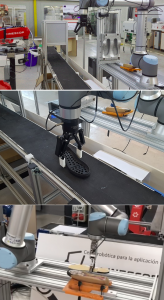 You can see in the following the information about the project in the virtual booth about COMMANDIA and our goals:
Development of a mobile manipulator team that will handle deformable components of footwear in order to assemble shoes in industrial environments.
Real-time deformation tracking based on multi-camera RGBD systems. Grasp synthesis for stable manipulation of soles, fabrics and other components of footwear.
Deformation control of soft components by the manipulation with multi-arm robotic systems, Multi-robot coordination strategies for active perception and collaborative transportation tasks.
Application to a real demonstrator chosen by industrial partners. This research project (SOE2/P1/F0638) is funded by the Interreg Sudoe Programme and FEDER. More information here.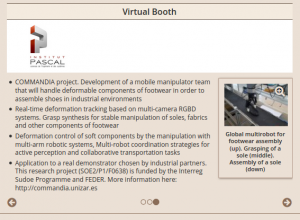 Institut Pascal will also answer any questions of the attendants by the Slack channel inside ICRA2020:
1. You need to register to the general workspace Slack of the conference.
2. When you log in the ICRA Slack, you need to click in the left menu to add the channel of Institut Pascal. You can search by the name of Institut Pascal or you can add the direct link.